Backed avocado with eggs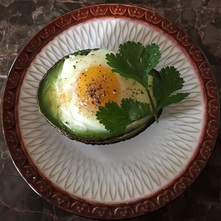 Preheat oven to 425 degrees F (220 degrees C).
Cut avocado in half.
Remove the seed from avocado.
Crack 1 egg into each avocado half; season with salt, black pepper, and cayenne pepper. …
Bake in the preheated oven until entire egg is cooked through, about 15 minutes.
Enjoy!